What is Marketing Engineering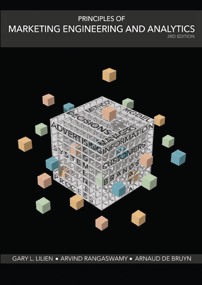 Several forces are transforming the nature, scope, and structure of the marketing profession. Marketers are seeing increasingly faster changes in the marketplace and are barraged with an ever increasing amount of information. While many view traditional marketing as art and some view it as science, the new marketing increasingly looks like engineering. "Marketing Engineering" is a term coined by Professor Gary Lilien, one of the founders of DecisionPro, Inc, to describe this new marketing philosophy.
DecisionPro, Inc. has developed a series of books and software products to further the field of analytical marketing. These books, combined with a comprehensive collection of leading-edge software models provides the know-how and tools to collect the right information and perform analysis to make better marketing plans, better product designs, and better decisions.
The purpose in writing these books is to help educate and train a new generation of marketing managers. Our goal is to train marketing engineers to translate concepts into context-specific operational decisions and actions using analytical, quantitative, and computer modeling techniques. We link theory to practice and practice to theory.
The models included in the Marketing Engineering software package include:
Marketing Engineering is a highly innovative book that brings science to the managerial intuition of marketing decision-making. The user-friendly and non-intimidating software tools and cases allow the user to focus on the decision-making process and its outcomes without having to deal directly with complex mathematical models. This book indeed leads the practice of marketing science to the 21st century.

University of Texas at Austin