What you put in...
What you get out...

Customer ratings of a set of real or potential product offerings, defined by their key attributes
Market share of existing products
New product profiles

Customers' preferences and responses to new products
Relative worth of product attributes
Optimal product design
Market share estimates for alternative products
Drivers for purchase choices
Customers' willingness to pay for product attributes
Potential incremental revenue from new offerings/features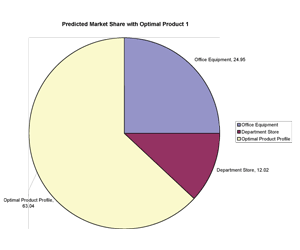 The Conjoint Analysis model is widely employed for designing new products. It is a procedure for measuring, analyzing, and predicting customers' responses to new products and to new features of existing products. It enables companies to decompose customers' preferences for products and services (provided as descriptions or visual images) into "part-worth" utilities associated with each option of each attribute or feature of the product. Firms can then recombine the part-worths to predict customers' preferences for any possible combination of attribute options. Firms can use conjoint analysis to:
Design new products that maximize customer utility.
Forecast sales/market share of alternative product bundles.
Identify market segments for which a given product concept has high value.
Identify the "best" product concept for a target segment.
Associated Videos
The following video(s) are archived recordings of previous webinars discussing the Conjoint Analysis model.These videos are intended for instructor viewing only as many times they discuss actual business case solutions.
Videos are only available for Registered Instructors