Download a FREE demo of Marketing Engineering for Excel!
Leading-edge software models provide the know-how and tools to collect the right information and perform analysis to make better marketing plans, better product designs, and better decisions.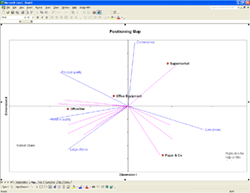 Your free trial of Marketing Engineering for Excel provides access to all 9 Marketing Engineering models:
Bass Forecasting Model
Conjoint Analysis
Customer Choice (Logit)
Customer Lifetime Value
GE/McKinsey Matrix
Positioning Analysis / Perceptual Mapping
Resource Allocation
Customer Segmentation / Clustering
Pricing
There is no risk and no obligation.
Note: The Marketing Engineering for Excel add-in is only compatible with Microsoft Windows OS.